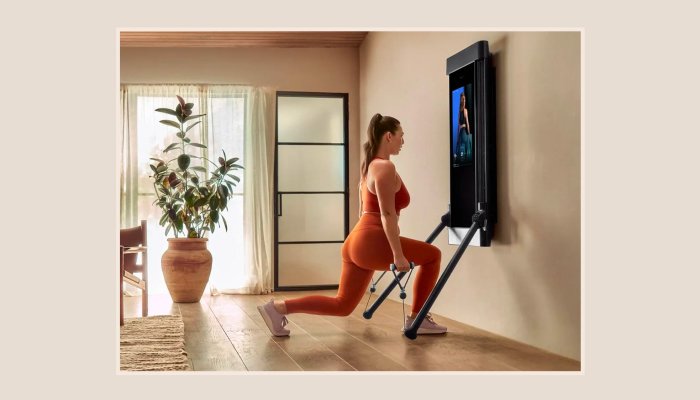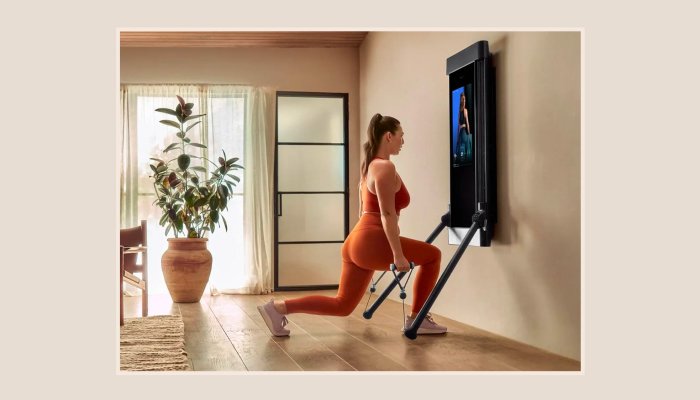 When it comes to an all-in-one fitness solution, you can't beat the Tempo Studio. No matter which set you get (starter, plus, or pro), you'll receive a slew of exercise accessories, such as dumbbells, collars, weight plates, squat racks, foam rollers, and more—and you'll be shocked to find that most of it fits in a sleekly-designed, free standing piece of equipment.
The Tempo offers a heavy focus on strength-training, making this a great choice for weightlifters. Even so, it's equally fitting for beginners, as 3D sensors in the screen track your movements and provide real-time feedback on how to improve your form. The included exercise equipment is also tracked by the program, which counts reps and weight amount to track your progression. Not only is the equipment smart, but it's high quality, too, with Olympic weight plates and a floating system that allows the plates to rotate on the handlebar, protecting your wrists from strain.
The closest thing you'll find to having a personal trainer in your home, the program allows you to either follow a trainer's predesigned program or curate your own workout routine based on your fitness goals. Either way, the Tempo app will autoload the next class in your progression onto the screen and provide the recommended weight and goal based on previous data. (Don't worry! You can always drop down the weight on days where your body needs a break, and the program will automatically adjust).
The screen itself is 42-inches with an HD display so clear it feels almost life-like, and reviewers rave about strong sound quality, too. As with most smart workout equipment, you'll need a membership to maximize your mirror and partake in classes, such as boxing, yoga, HIIT, cardio, meditation, and mobility. A free 30-day trial is included with your purchase, starting the day your Tempo Studio is delivered. 1:1 coaching is available, which you can explore through a free 30-minute video consultation.
Delivery includes installation and set-up, so all you need to do is make sure you are home to direct the team into your room of choice.
If you're low on space, it's also worth considering the Tempo Move. A favorite of our deputy commerce editor Braelyn Wood, it uses the iPhone's camera to track your movement instead of a mirror with a hockey-puck sized processor that connects to your television screen. You'll still get the same quality weights and a sleek holding case, but save money and space.
Subscription cost: $39 monthly