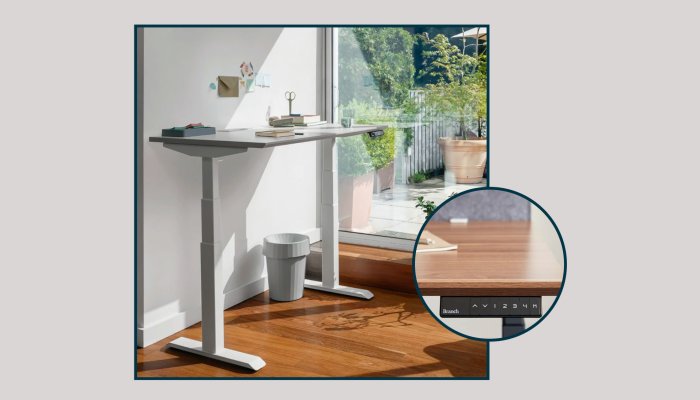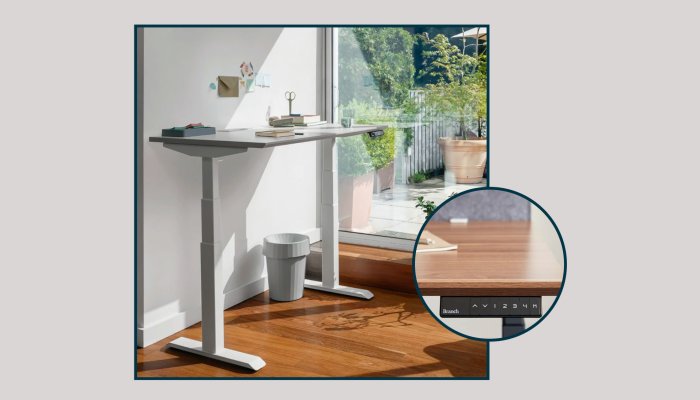 This brand comes recommended by McSorley. This motorized model is controlled using a keypad, and is extremely customizable. For $89 more, you can choose to add a motorized foot pad if you'd prefer to adjust the desk that way. The desk is available in 29 colorways, with multiple desktop size options, four frame colors, and the option to add wheels for easy movement within your space.
Every purchase includes a handy wire management tray, 10 cable mount ties, and two anchor plates that can be used to install under-desk accessories. Choose from three free add-ons, such as a foot hammock, standing desk mat, rocker board, organizer, or LED lamp. The desk comes with two grommet covers, which you can upgrade to power or storage grommets for an additional charge. Similarly, the keypad can be upgraded to an advanced display.
This desk also features a top-notch anti-collision system which helps detect resistance and stop desk motion in the blink of an eye. This may be especially helpful for those with small children or pets. What's more, this desk can be connected to the brand's app where you can track calories and send reminders for when to switch from sitting to standing. Adjustments to the desk's height (from 25.3 to 50.9 inches) can also be made through the app.
With nearly 15,000 reviews on the brand's website, this desk maintains a 4.9 overall rating. Customers say it's durable and an "absolute gamechanger." Others praise the ease of assembly and the quality for this price point. Bare in mind, a couple people point out that some under-desk add-ons, such as the keyboard tray and foot hammock, can feel bulky. Additionally, while grommets are included, a few reviewers say the wires can get messy.